Letting potential volunteers know where your opportunity takes place is an important part of the recruitment process! Plus, the information provided here affects how and where your listing appears in search results, so you'll want to make sure it's as accurate as possible.
Please note that the first step in setting your opportunity location is to choose between 'One Location' and 'Virtual.' This might not describe your opportunity perfectly, so choose one of the following for more information about accurately specifying your location:
If your opportunity takes place at a specific location, say a school, hospital or office, select 'One Location' and enter the street address in the space provided. Be sure to fill out the required fields marked with an asterisk.
If you've previously created an opportunity at this particular location, you should be able to select it from the "Choose previous address" drop-down menu.
If you've entered a valid street address, the location of your listing should appear in the map to the right. Potential volunteers will be able to see this map when viewing your opportunity. If you don't want this map to appear on your opportunity, select the box under the map to the left of "Do not display listings on maps."

What if your opportunity doesn't take place at one specific location but does require volunteers to be in a specific community, neighborhood, city or state, e.g., fostering puppies or delivering meals in the volunteer's own community? You'll also want to select 'One Location'; otherwise, your opportunity will not show up in local search results.

By default, location-based opportunities are visible in search to potential volunteers within a 20 mile radius of the center of the ZIP code you specify. Instead of entering a specific street address, indicate the area where you'll be recruiting or where the opportunity will take place in Address 1. For example, you can write "The Austin Metro Area" or "From your home in San Diego." Don't forget to include the city, state and ZIP code for the area you want to target!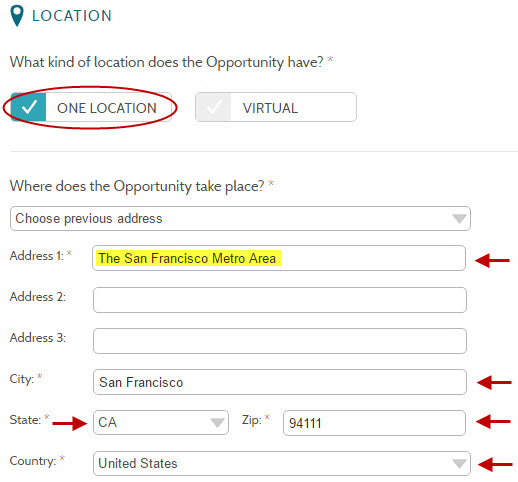 If you're interested in recruiting from an area larger than 20 miles around your ZIP code, you can expand your ZIP code coverage using our Multi-ZIP tool. Learn more here.
If you need to target a couple different cities or counties, but not the areas in between them, you can create a separate opportunity for each area you're targeting as long as the areas are more than 20 miles apart. However, please note that postings that create redundant search results for volunteers are considered spam and are subject to removal in accordance with our Opportunity Guidelines.
If an opportunity can be completed in its entirety from anywhere in the world with a computer, Internet connection, phone and/or fax, simply select 'Virtual' and proceed to the next step. Examples of virtual opportunities include grant writing, online research and web design. Click here for more information about what constitutes a virtual opportunity.  
Please note that virtual opportunities do not show up in local search results. Volunteers need to select the 'Virtual' filter in order to view these opportunities (see screenshot below).Even if your opportunity technically meets the definition of a virtual opportunity, you may be able to increase your chances of successfully recruiting volunteers by focusing your efforts on a local audience likely to be familiar with your organization.