By default, your volunteer opportunity is visible for a roughly 20-mile radius around the ZIP code it is listed within.
We offer Multi-ZIP, which allows you to extend that radius outward for 90 days of service by purchasing additional ZIP codes at $0.50/ZIP code. Multi-ZIP makes your opportunity available in all ZIP codes in a specific city, county, state, or even nation-wide.
Once you've created and published your opportunity, a ZIP CODE COVERAGE section will display in the Recruitment tab (you may have to refresh the page if you have just published the opportunity).

Select 'EDIT' to open an EXPAND COVERAGE section that displays 4 out of 5 levels of zip code coverage in a drop-down menu. Click here for information on how to purchase National coverage.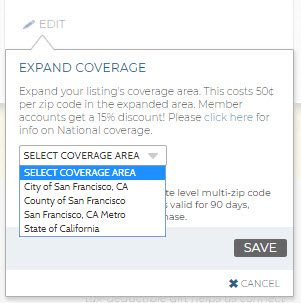 You can choose coverage for an entire city, county, metro area, or the entire state. The zip code coverage fee is determined by the number of zip codes included in a selected coverage area. If your organization has a Member account, you'll receive a 15% discount for the zip code coverage fee. The discount is automatically calculated on screen.
Once the zip code coverage level has been selected from the drop-down menu, the section will refresh to display the number of zip codes covered and the amount charged. If you don't wish to pay this fee for 90 days of coverage expansion, simply select 'CANCEL.' If you'd like to move forward with the expanded coverage, select 'SAVE' and you will be redirected to the payment page.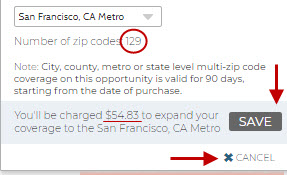 Your Multi-ZIP service will activate upon payment completion and is valid for 90 days. The expiration date will be noted on your Order History page. Once expired, you can repurchase the same coverage for three new months of service by following the same steps above.
*Please note:
Our system does not allow users to select individual ZIP codes in which to post their volunteer opportunities when purchasing Multi-ZIP coverage. You must choose from the designated choice areas (i.e., city, county, metro area).
You cannot repost opportunities with Multi-ZIP even with VolunteerMatch Member Benefits. 
Multi-ZIP is only attached to the opportunity with which you choose to expand coverage, so opportunity deletion means coverage removal. We recommend you do not delete opportunities with Multi-ZIP.
Your purchase of Multi-ZIP only supports the location in which you've expanded, and cannot be shifted to a new area in the case you change your opportunity's zip code.