It's easy to manage your organization's administrators!
An account administrator has full access to the organization's profile, including the ability to edit information and post new volunteer opportunities. Please note all administrators have equal access.
To get started, log into your VolunteerMatch account with your email and password to access your organization's dashboard page. Then select 'Manage Administrators' under Manage Organization located on the left hand side of your dashboard to review, add, remove or contact your organization's admins!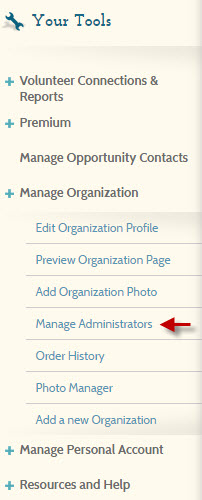 ADD A NEW ADMINISTRATOR
Select 'Add Administrator' 
If the new administrator already has a VolunteerMatch account, simply enter the email address associated with their account and select 'Add Administrator'
If the new administrator does not have an account, you'll need to fill out the required information on their behalf (including creating a password) and select 'Continue' 
The new administrator will receive an email with verification instructions after you complete this step
REMOVE AN ADMINISTRATOR
Select 'Remove' next to the correct name
The removed administrator will be notified via email of their removal
Please note, if that administrator is also listed as a contact for any opportunities, you'll first need to designate a replacement contact. 
EMAIL ADMINISTRATORS 
Select 'Email All Administrators'
Remove any administrators you do not want to include, enter a title and message, and preview the email

Confirm that you would like to send the message on the next page by checking the box and select 'Send Email to X Recipients'
If you find an error, simply select 'Edit' to go back a step and fix the mistake