An opportunity contact receives email notifications from VolunteerMatch whenever prospective volunteers express interest in the opportunity. Before you can add a contact to an opportunity, you must first add them to your organization's account.
Follow these steps to add a new opportunity contact:
Log into your VolunteerMatch account

to access your organization's dashboard

Select Manage Contacts from the menu on the left; this will bring you to the Contact Manager tool


Select 'Add New Contact'


Fill out the information requested and select 'Submit'


Your new contact will receive an email verification request from VolunteerMatch. Contacts must verify their email before they can be added to an active opportunity. This will ensure they receive notifications from prospective volunteers!
Once added to your contact list and verified, you'll be able to assign the contact you just created to any opportunities you create going forward.
If you wish to edit or delete a contact from your account, simply select Manage Contacts and select 'Edit' or 'Delete' next to the contact you'd like to update or remove.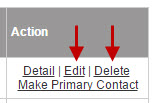 Please note that administrators are automatically added to your list of contacts. Contacts added manually do not have access to your organization's VolunteerMatch account; they only receive connection notification emails.