Adding a video to your organization profile and opportunity is a great way to engage and educate prospective volunteers!
With Media Manager, you can link videos from YouTube* to your organization profile and active opportunities. Use the same video for all opportunities or store up to twenty videos; all with a VolunteerMatch Member account.
*Please note, videos can only be sourced from YouTube. Private videos on YouTube will not be added to the manager. There is no video time limit.
Complete the following with Media Manager:
Add videos to Media Manager
Log into your account on VolunteerMatch.org
Select  'Media Manager' under Manage Opportunities in your navigation menu
Embed a new video by selecting the +Add Video button
Paste your video's YouTube URL in the appropriate field, then enter an internal use title and internal use caption and Save                                                    
You've now successfully added a video to the manager!
Link videos to your organization profile and opportunities
Add a video to your organization's profile page as a tool to introduce prospective volunteers to your organization, and associate videos to your active volunteer opportunities. 
Associate your video to an active opportunity by following these steps:
Select the checkbox next to the video you'd like to associate to an opportunity
Click on the View and Link Opportunities drop-down and select one, multiple or the All Opportunities option to associate the video
Add an organization profile video by selecting the Make this your Organization video button located right under the entry's icon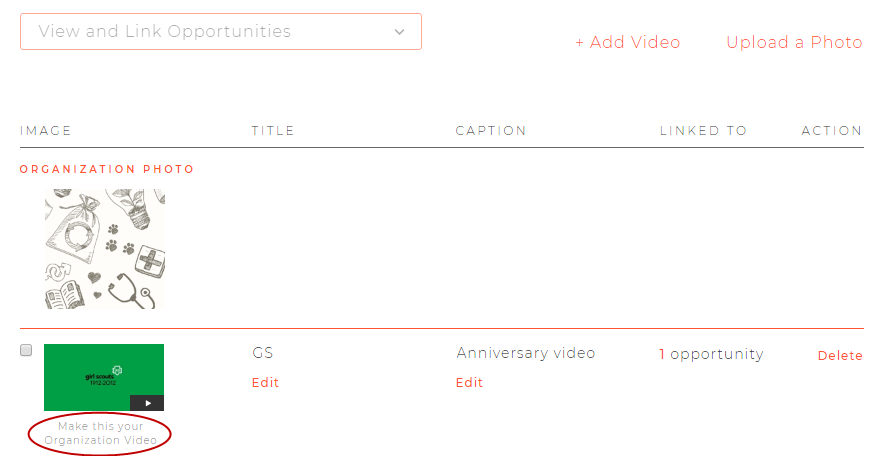 Edit and delete videos
You can edit your video's title and captions to help organize your manager or delete videos on the page. Captions and titles are for internal use and cannot be viewed by volunteers.
Select the Edit buttons in the video's row to edit your title and caption, then select Save. Delete a video by selecting the Delete button at the right of the media's row