You can use shifts to divide an opportunity by time, date, or/and task! You can add up to 10 shifts to each opportunity.
Follow the steps below to add shifts:
With Ongoing Opportunities
In the opportunity's Add/Edit form, scroll to the Schedule section and select the Yes option for the question "Does this Opportunity have shifts?". From then on, you can create new shifts.
Select a general period of time or Custom
Select your Shift Start Time and Shift End Time based on your choice of a general period of time/custom
Enter your max need for volunteers (your shifts will not close if you exceed the max)*
OPTIONAL: Add a note that

will

appear visible to volunteers
Select Finish
If you'd like to add another, select the Create New Shift button or copy your existing shift
Make sure to Save the whole opportunity form in order to save the opportunity
With Specific-Date Opportunities
Specific-date opportunities can only accept shifts occurring on or within the dates of the opportunity.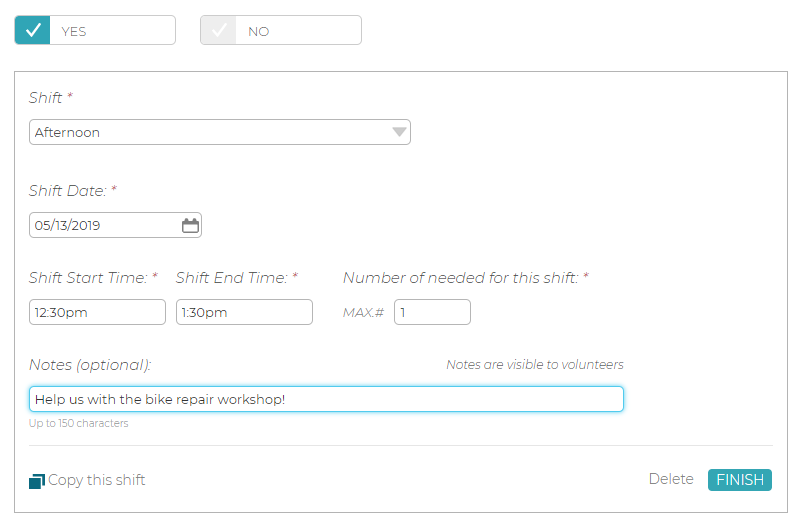 *Please note, the max number of shift volunteers cannot exceed the opportunity's estimated number.
Managing shifts in the View All Connections page
If you're viewing all opportunities, the connections on the page will note that the volunteers have chosen one (or more) shifts. Select View to note the shift times they've signed up for!
You can also select to view an opportunity with shifts and the shifts information will appear on the page.
Note:
If you change or delete the shift, the information will no longer be available in the View All Connections page